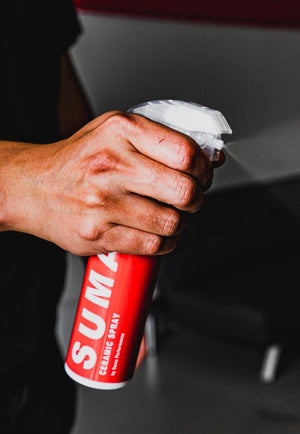 DIY Ceramic
Coating Spray
2 Years Of Ceramic Protection In Under 10 minutes?!
No problem! Thanks to the SUMA Detail DIY Ceramic Spray, you can protect your paint while bringing back that factory shine in just a few minutes!
Save Thousands
Who needs a professional ceramic coating when you can achieve the same results with our easy-to-use ceramic coating spray?
Factory Shine Right In Your Garage
Bring your vehicle's paint back to factory beauty in only a few minutes. Plus your freshly ceramic coated paint will stay protected from the elements!
The Secret To A Mirror Finish
The SiO2 is processed using our proprietary/trade secret. With this special SiO2 process (only we do this), it breaks the SiO2 into smaller molecules than conventional SiO2 such that they can fill up all the valleys/holes/gaps in the paint to bond perfectly to give you that flat surface protection. It reflects all the sunrays in the same direction to give you the new car/mirror like gloss that is unique to Suma, unlike wax or other brands.
Professional Grade
Protection And Shine
Protect your vehicle's paint for 6+ months with SUMA Detail's special SiO2 formulated Ceramic Coating Spray.